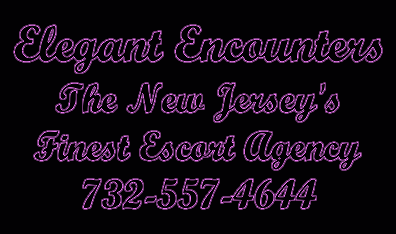 The_Girls_of_Elegant_Encounters_New_Jersey_Escorts

Welcome to Elegant Encounters. We are a New Jersey state-of-the-art,
top-of-the-line internet female escort agency. Our agency provides a listing of New Jersey escorts which cater to professional and upscale gentlemen who are seeking companionship with a sweet and caring independent escort. Elegant Encounters is dedicated to bringing female New Jersey escorts together with men whose lifestyles may not allow them the opportunity to meet quality people in conventional ways. Our sole purpose is to bring two worlds together that would otherwise never have the chance to meet in a courteous, discreet and professional manner. Elegant Encounters does not, nor have they ever endorsed, offered, or condoned any illegal activities.

None of the New Jersey independent escorts advertised by Elegant Encounters are, nor have they ever been employed by Elegant Encounters. All the girls have always been independent New Jersey escort contractors, whether they appear on this web site or not.

The escorts featured here set their own schedules for availability, work days and hours any of which may change at an time. It is recommended you schedule an appointment in advance to ensure the escort of your choice is available for the date and time you desire. However, there are many times your date can be ready within an hour or two. To ensure we are here to meet your schedule, we are normally able to answer the phones from approximately 10AM to 2AM seven days a week. Click on the enter button below to enter the site and view pictures of the escorts.